Port of Mersin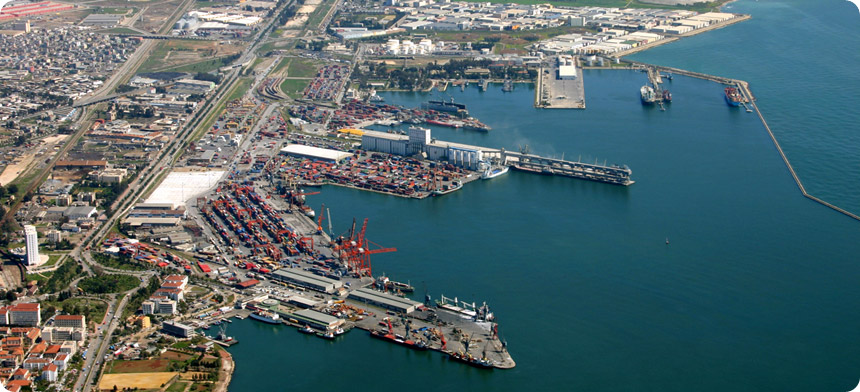 Location and Description of the Port:
Mersin port is situated in the eastern part of the Mediterranean Coast. It is the main port for the Eastern Mediterranean Region's industry and agriculture. The port's rail link and its easy access to the international highway makes it an ideal transit port for trade to the Middle East. With its modern infrastructure and equipment, efficient cargo handling, vast storage areas and its proximity to the free trade zone, Mersin is one the important port is in the East Mediterranean. The facilities at the port handle general cargo, containers, dry and liquid bulk and ro-ro. Port is protected by two breakwater of 2800 m and 1525 m long. The depth at the entrance is 14m and is 12m to 14.5 inside the breakwaters.
Pilotage:
Pilotage is compulsory for vessels entering or leaving the port. The service is provided by the Port Administration and is available 24 hours.Towage is provided by the Port Administration round the clock. 7 tugs of 3200 HP are available.
Handling Equipment:
The equipment at the port includes 5 quayside container gantry cranes of 40 tons capacity, 17 shore cranes of 3 to 35 tons capacity, 3 reach stackers of 40 tons capacity, 13 rubber tyred transtainers of 40 tons capacity, 18 mobile cranes 5 to 25 tons capacity, 5 container forklifts of 10 to 42 tons capacity, 46 general cargo forklifts of 2 to 5 tons capacity, 32 tugmasters, 1 loader, 10 tractors, 43 trailers of 40 tons capacity, 9 traileris of 15 tons capacity, 10 trailers of 20 tons capacity and 2 pneumatics of 50 tons/hour capacity.
Floating Craft:
The floating craft comprise 1 floating crane of 60 tons cap, 1 pilotboat, 5 tugboats and 3 mooring boats.
Storage:
The storage facilities of Mersin include 589,000 sqm of open and 22,340 sqm of closed storage and two CSF of 10,464 sqm the annual storage capacity of these areas is 8,109,024 tons/year and 562,992 Tons/year respectively. The annual holding capacity of the container storage yard is 203,376 TEU/year.
Container Terminal:
Container handling operaitons at the terminal are carried out by 5 guayside container gantry cranes of 40-60 tons capacity, 13 transtainers of 40 tons capacity, 3 reach stackers of 40 tons capacity and 5 container forklifts of 10-42 tons capacity. There are two container freigh stations of 9000 and 1,309 sqm. Another facility available at the terminal is the provision of reefer facilities for refrigerated containers. Actual container Lines to Mersin are MCL, CAMOV, INTERMODAL, TRIESTINO, ZIM, CMA.

General Cargo Facitilies:
There are 11 berths wiht a total length of 1572 m.and wiht alongside depths of 6 to 12 m.The berths and yard behind are well equipped wiht modern and high performance cranes and handling equipment.

Bulk Handling Facilities:
There are three berths with a total length of 708 m.and with alongside depths of 10 to 14.5 m.A reinforced concrete grain silo of 100,000 tons capacity is available and there is a conveyor system connected with the guay. Loading rate:1200x2=2400 tons/hour.Discharging rate 600x2=1200 tons/hour.

Ro-Ro Facilities:
The port has ro-ro facilities.

Rail Ferry Facilities:
There is a rail ferry terminal at the port.The terminal has 253 m quay length and 12 m.Depth alongside.It has 10 km.maneuvering lines behind the guays for marshalling vagons.But the bridging system is not yet available.When the type of rail ferry which will serve in this route is determined, the system will be realized and put into service.
Tankers:
Atas refinery terminal is available for tankers. One finger pier berths two tankers at a time. The depth at the entrance channel and the pier is 14 m.Maximum length is 299 m.10 hose connections to 26 inches pipeline at shore line.Loading rate 1,000cum/h,discharging rate 1,500 cu.m/h.
Free Trade Zone:
There is a free trade zone next to the port. The zone covers an area of 776,800 sqm. and activities at the zone has some 500 m.quays with water depths of 8 m.to 10 m.
Fire Fighting:
There is a well-equipped fire fighting service for the prevention of fires in the port.A fire fighting tug fitted with necessary equipment is available.
Reception Facilities:
an oily-water seperator system is available at the capacity of 30,000 cum/year.
Fresh Water:
Fresh water is available from one 100 tons capacity linhter and also from the 18 valves at the rate of 15 tons/hour.It is supplied by the Port Administration.
Bunkers:
Available through private suppliers.Almost all kind of marine fuels and lubricants available in transit and facilities for delivery to ships.
Repairs:
Repairs of small boats is possible.
Security:
Port security personnel ensure the safety and control of the port 24 hrs a day.
Port Working Hours:
Administravite:08:30-17:30

Operational:
Service is provided to vessels all days of the week 24 hours a day with a rotation of three shifts.
1st Shift: 08:00-16:30
2nd Shift: 16:30-00:30
3rd Shift: 00:30-08:00
Berth/Berth Group/ Length(m)/ Depth(m)
No:1/ Passenger/ 150/ -10
No:2-3/ General Cargo/ 275/ -10
No:4/ General Cargo/ 160/ -10
No:5-6/ General Cargo/ 335/ -10
No:7/ General Cargo/ 158/ -10
BOUNDARIES OF MERSIN PORT

Mersin port is the sea area between the shore and the following points :
Latitude 36 degrees 27 minutes 30 seconds north and
Latitude 35 degrees 20 minutes 30 seconds east ( excluding Karatas lighthouse )

ANCHORAGE
Vessels can enter Mersin port roads at any time without pilot, drop anchor at below listed anchorage places and register the arrival to the pilot station through channel 12 of VHF.Vessels are obliged to fly clean, well identified Turkish flag during their stay at all Turkish Ports.
1. ANCHORAGE PLACES :
36 degrees 42 minutes 00 seconds north , 34 degrees 38 minutes 00 seconds east
36 degrees 42 minutes 00 seconds north , 34 degrees 43 minutes 00 seconds east
36 degrees 46 minutes 00 seconds north , 34 degrees 43 minutes 00 seconds east
36 degrees 46 minutes 00 seconds north , 34 degrees 38 minutes 00 seconds east
2. ANCHORAGE PLACES FOR DANGEROUS CARGO AND GAS FREE :
36 degrees 42 minutes 00 seconds north , 34 degrees 43 minutes 00 seconds east
36 degrees 42 minutes 00 seconds north , 34 degrees 47 minutes 00 seconds east
36 degrees 46 minutes 00 seconds north , 34 degrees 47 minutes 00 seconds east
36 degrees 46 minutes 00 seconds north , 34 degrees 43 minutes 00 seconds east
3. QUARANTINE ANCHORAGE PLACES :
36 degrees 42 minutes 00 seconds north , 34 degrees 48 minutes 00 seconds east
36 degrees 42 minutes 00 seconds north , 34 degrees 51 minutes 00 seconds east
36 degrees 45 minutes 00 seconds north , 34 degrees 51 minutes 00 seconds east
36 degrees 45 minutes 00 seconds north , 34 degrees 48 minutes 00 seconds east